Blade Runner 1982: Director's Cut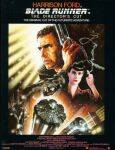 Dialogue Transcription - 1980 + 1981 ScreenPlay (Compressed)

Rick Deckard (Harrison Ford) prowls the steel and microchip jungle of 21st century Los Angeles. He's a "blade runner" stalking genetically made criminal replicants. His assignment is to kill them... their crime is wanting to be human. Based on Philip K Dick's novel, Do Androids Dream of Electric Sheep? 117min. Rated R. Director: Ridley Scott. Composer: Vangelis. Visual Artist: Syd Mead

Glossary (from Fan Club Magazine, Vol.1, No.1):
Blade Runner - Nickname given to police detectives specially trained in the use of the Voight-Kampff. Their specific function is to track down and eliminate any replicants that manage to escape into human society and attempt to pass as real human beings. Official name of the Blade Runner division is Rep-Detect.
Off-World Emigration Program - OEP recruits suitable candidates for supervisorial jobs in off-world colonies as incentives to those who meet health, age and educational requirements. Unqualified candidates are rejected.
Replicant - A genetically engineered creature composed entirely of organic substance. Animal replicants (animoids) were developed first for use as pets and beasts of burden after most real animals became extinct. Later, humanoid replicants were created for military purposes and for the exploration and colonization of space. Tyrell Corporation recently introduced the Nexus 6, the supreme replicant, much stronger and faster than, and virtually indistinguishable from, real human beings. Earth law forbids replicants on the planet, except in the huge industrial complex where they are created. The law does not consider replicants human and therefore accords them no rights nor protection.
Esper - A high-density computer with a very powerful 3-dimensional resolution capacity and a cryogenic cooling system. Police cars and Deckard's apartment contain small models which can be channeled into the large one at police headquarters. This big apparatus is well-worn, retro-fitted part of the furniture. Among other functions, it can analyze and enlarge photos, enabling investigators to search a room w/o being there.
Methuselah Syndrome - A glandular condition that accelerates the aging process. A 10 year old suffering from this disease could become a 40 year old in 5 years.
Voight-Kampff Machine - An advanced form of lie detector measuring contractions of the iris muscle and changes in airborne particles emitted from the body. The bellows were designed for the latter function and given the machine a menacing sinister effect. V-K is used primarily by blade runners to determine if a suspect is truly human or not, by measuring the degree of his/her emphatic response through carefully worded questions and statements.
EMS Recombination - A technique used for altering the genetic code prior to cloning. Ethyl Methane Sulfonate is an aklylating agent and a potent mutagen.
Spinner - Generic term for all flying cars in use around the year 2020. Only specially authorized people and police are licensed to operate these remarkable vehicles, which are capable of street driving, vertical lift-off, hovering, and high speed cruising. Spinners are powered by three engines: conventional internal combustion, jet and anti-gravity.
4th Sector - Smoky part of town - dead bodies in dark alleys, mysterious transactions on street corners, sex, drugs, and murder for sale. Place includes 'Animoid Row' where handmade animals of all sorts can be purchased with or w/o serial numbers.